Maricopa County Recorder Stephen Richer wades into 2022 campaigns, creates 'pro-democracy' PAC

Jen Fifield
Arizona Republic
After promising to be "boring" if elected and criticizing his predecessor for being too political, Maricopa County Recorder Stephen Richer is wading into 2022 politics by launching a political action committee to support what he calls "pro-democracy Republicans."
Richer created the Pro-Democracy Republicans of Arizona PAC, which he says will help bankroll certain Republican candidates for state Senate and House if they acknowledge that the 2020 election was fair and condemn the Jan. 6 insurrection at the U.S. Capitol as a "terrible result of the lies told about" the election.
As recorder, Richer oversees portions of the county's elections — the rest is controlled by the Board of Supervisors. It's not typical for recorders who oversee elections to engage in such pronounced political activities, since many try to give the perception of impartiality in their day-to-day jobs, according to some national election administration consultants.
But Richer and others say the unfounded claims of election fraud during the 2020 election and harassment to election officials that followed — which occurred across the country but were concentrated here with the Arizona Senate's audit of the election results — has spurred some typically quiet officials to speak out.
Democracy in Doubt series:Trump supporters focus on 'issues' with election, not the final result, as Arizona ballot review falls flat
Richer won his spot in November 2020, beating out incumbent Democratic Recorder Adrian Fontes after criticizing Fontes for actions Richer believes were either political or broke state law as he administered the county's elections.
Richer said he had planned to stay out of politics while in office, but this year changed things.
"This wasn't my intention by any stretch of the imagination," he said in an interview with The Arizona Republic earlier this month. "Unfortunately, whether the people I worked with violated the law (to commit election fraud) has become the defining issue."
Richer has stood up to former president Donald Trump and other Republicans in defense of election workers and the integrity of last fall's election. 
PAC is response to fallout of 2020 election
The political action committee is a pointed response to Senate Republican leaders who after the 2020 election subpoenaed Maricopa County's ballots, vote-counting machines and other election material and hired private companies with Stop the Steal ideals for a monthslong partisan audit of the county's election results.
The audit drove a deep wedge between the county's elected Republicans, such as Richer and the Board of Supervisors, who continuously declared that the county's election was fair, and most Senate Republicans, who said they thought an audit would improve public trust in elections. The few Senate Republicans who did speak out in opposition to the audit were shunned by their colleagues and harassed and threatened by the public. 
As state candidates who espouse election fraud claims are endorsed by Trump and potentially garner related donations, Richer says it's time for those on the other side to be rewarded.
"I want there to be at least one thing on the other side of the balance sheet," he said.
He said no one else was stepping up to raise money for them, so he had to. While the news release about the PAC talks as if there is a group involved, Richer said it's just him.
"It is meant to be a home for the many people who have reached out and said, 'What the heck is happening to my Republican Party?'" he said. "Why are we a cult of conspiracy, rather than a principled limited government party that follows ideas, not conspiracy theories."
Richer criticized Fontes for certain activities he saw as political, such as his location of emergency voting centers in Democrat-heavy precincts in 2018.
Fontes has dismissed those claims. Now, regarding Richer's PAC, Fontes says that he believes Richer should have chosen "a different path to promote election integrity."
"This office should not only have the perception of impartiality but should be as far away from politics as possible," Fontes said. "After all, that's what he ran on."
Election officials try to 'stay out of the fray'
Generally, for officials that oversee elections, decisions based on obvious partisanship aren't helpful in bringing trust back into the election process, said Kathleen Hale, a political science professor and director of Auburn University's graduate program in election administration.
"Trust in the election process in 2020 was damaged severely and it might take quite some time to recover," Hale said. "Anything tied overtly to partisan politics probably doesn't increase voter trust."
Hale, who is on the board of the National Association of Election Officials, said she believes that election officials, whether appointed or elected, conduct their duties in a nonpartisan manner. But perception matters.
Richer's PAC is "an interesting way to influence the conversation," Hale said. "However, to the extent that partisanship is involved, it might have a negative effect on voter trust."
Hale said she wouldn't be surprised if similar political committees took root in other states, given the atmosphere after the 2020 election.
Chris Thomas, a fellow with the national think tank Bipartisan Policy Center's Democracy Project and a former longtime Michigan director of elections, said generally, what he has seen watching the Michigan scene for decades now, is officials overseeing elections step back from overtly political activities once they are in office.
Thomas said they might attend political conventions or other events, "but in terms of being out front in the election in a partisan way they tend not to do that."
He didn't want to comment on Richer specifically, but generally, it might create a perception issue if election officials across the country started creating PACs and getting involved in partisan politics.
"That could cross some lines," he said.
But Ben Ginsberg, a prominent elections lawyer who is known for his work for presidential and congressional campaigns and is co-chair of the recently formed Election Official Legal Defense Network, has a different opinion on Richer's initiative.
Ginsberg said the current system, where officials such as the secretary of state and recorder must run for office and be elected, requires them to get involved in politics as they run their campaigns and ask for support and contributions. He sees no difference from what Richer is doing and what Democratic Secretary of State Katie Hobbs is doing in her race for governor.
"That's the system that we have in place," he said. "It's fair to ask if that's the best system, but it's what people elected to those positions have to do."
The situation is different for the election directors and administrators who sometimes work under those elected positions, he said, who typically are not elected and attempt to stay out of politics.
"That gives the elected officials some breathing space to be partisan,"  he said.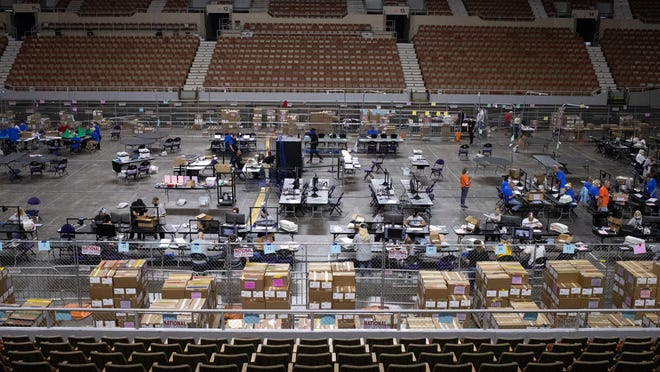 Changing atmosphere for election officials in 2020
Some recorders may have attempted to stay out of politics in the past, but Ginsberg said that with the election fraud charges in 2020, the climate has changed. It's apples and oranges to compare election administration before the 2020 election and after, he said.
"It's put people in a position that's not necessarily of their choosing," he said.
Former County Recorder Helen Purcell, who was in office for decades before Fontes, said she would occasionally contribute to campaigns while in office but did not endorse candidates, except for former Arizona Secretary of State Michele Reagan.
"I never thought it was a good idea," Purcell said. "A lot of things that go on in a campaign kind of land in your lap, so to speak, at election time. So I always felt it was better to stay away from it as much as possible."
But Purcell said she understands that this year Richer has had to face much different circumstances than she did, including what she calls "viciousness" by audit supporters.
"It's been a very toxic atmosphere," she said. "So you maybe want to have some people who are sensible."
Richer said times have definitely changed since Purcell was in her role.
"I think we are facing a grave challenge to our democratic principals," he said. "I'm just putting my money where my mouth is."
Richer said it should come as no surprise to people that he's a Republican and he didn't support the "lies" about the 2020 election.
"I'm in an elected position that we elect, wisely or foolishly, as a partisan position," he said.
Arizona audit:Analysts say they cannot validate or replicate Cyber Ninjas' hand count of votes
He pointed out that no one raises questions about the political activities of the Board of Supervisors, who split the duties with him in overseeing the county's elections.
He said the election system is built so that anyone involved with bias cannot tamper with results, even if they wanted to.
Richer says PAC already has raised $100,000 
Richer said the PAC probably will support a few statehouse candidates in 2022 and perhaps county races in the future.
He hopes the PAC will be in a position to help with individual expenditures of $50,000 to $70,000 in each race.
Richer says the PAC already has raised about $100,000. He declined to name the funding sources until the next round of campaign finance reports is due in January.
He plans to create a board that would select the legislative districts and candidates to focus on and said he won't play a role in the selection process.
"I just want something to exist that is pro-people who are pro-democracy."
Reach the reporter at jen.fifield@azcentral.com or at 602-444-8763. Follow her on Twitter @JenAFifield.